Dry Bulb Cooling Water Systems
The Basic Form of Industrial Cooling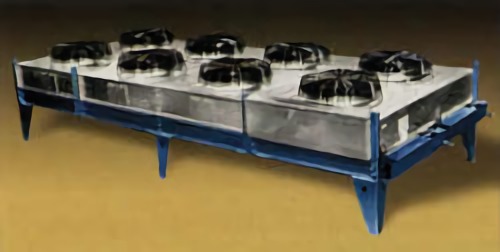 Dry fluid coolers utilize a sealed, pressurized closed loop system that provides a clean, efficient, and low maintenance solution to industrial cooling applications. Dry fluid coolers utilize ambient air to dissipate heat. Warm water/glycol fluid is recirculated from the heat load through a finned tube heat exchanger; while ambient air is drawn across the coil circuit.
Precision Engineered to your specifications
Thermal Precision dry fluid coolers are sized to match your heat load under the most demanding conditions. Our coolers are delivered assembled and pre-wired for easy installation at your site and are constructed entirely of corrosion resistant materials. We offer the option of one complete module for outdoor mountings, or as two separate modules, which enables you to install the pump/control module inside and remote mount the air-cooled heat exchanger outside.
The Advantage of Trim Cooling
The practical implementation of a dry fluid cooler is limited by maximum ambient temperatures. Optional trim cooler packages are used with dry fan-coil units to ensure cool operations in high ambient temperatures. Trim coolers are used when fluid temperatures need to be held at specific conditions. Thermal Precision trim coolers are available in tube-in-shell or plate & frame type and are sized for 2:1 flow to save water. A quality temperature-controlled water regulating valve is standard and uses only the amount of city water required; affording automatic and economical operations.
Contact Us About Dry Bulb Cooling Water Systems