Evaporative Fluid Cooler Wet Bulb Cooling Water Systems
Need Lower Fluid Temperatures?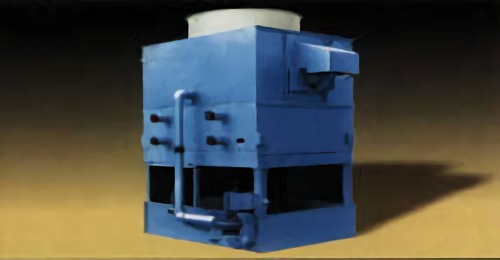 A packaged evaporative cooler system is the answer to cooling needs in high ambient temperature locations using temperature sensitive equipment. Thermal Precision Evaporative Fluid Coolers consist of a tube bundle, spray pump, and cooling fan. The tube bundle is sprayed with water, while a water glycol solution circulates through the tube bundle. Heat exchange occurs from the tube bundle to the spray water and is dissipated with the evaporation of the water. The cooler is sized for area wet bulb (ASHRAE 1%) for heat sensitive loads.
The water/glycol mixture is circulated between heat load and evaporative cooler through a packaged pump/control module; which is factory pre-piped and pre-wired for easy installation. The sealed, pressurized recirculating system eliminates scale corrosion build-up in your piping and heat generating equipment by eliminating entrained oxygen in the system. Corrosion inhibitors contained in the glycol provide further protection.
Evaporative units are available with axial fans, centrifugal fans, fan cycling, pan heaters, etc. as options to fit your specific requirements.
Closed Industrial Fluid Cooling Systems
These systems allow you to minimize high cooling tower maintenance costs, and prevent water-cooled equipment from fouling.
Contact Us About Evaporative Fluid Cooler Wet Bulb Cooling Water Systems